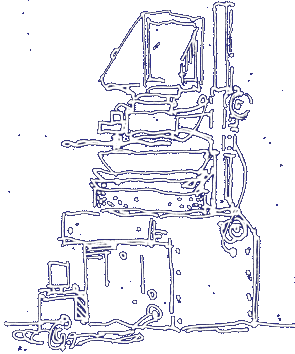 Hi, you've reached the official website of the Wick Lightshow.
All content herein is for historical purposes.
Introduction


Congrats to Pooterland for a wonderful compilation of Lightshow History and the inspiration to post this website, along with my recent friend, Richard Young of the original Wizzard Lightshow.


If there is anyone who has seen lightshows, was in one or is interested at all, then this could be a site for you.
Recent News


The original equipment and effects having underwent a cleaning, refurbishment and upgrading have been reactivated and used in several shows for the 2005-2008 period. Stan Sweatt and Larry Revoir were joined by second original member Dave Kiser.


After that we began to alter the works. We retired some of the older equipment and added more powerful metal-halide lamped liquid projectors plus video projectors for the "hard" imagery using Livid Union software for video mixing. Our final show to date was in '010.


The equipment has now been all sold and we are officially retired.


See what the final config was and what was sold here.

some other Lightshow Links...


I would look foward to trading any lightshow info with other active shows. If you have a show site and want to be linked, just email me the address. Here are some current links of recently active shows I've mined myself (without their owner's permission) or been sent. Please let me know if you find a dead link. Pooter's has all the historical links.


Brotherhood Of Light


Liquid Karma Lightshow Official Homepage


Liquid Light Productions


Liquid Sound Designs


Pig Light Show


Rainbow Prism Atomic Lightshow


Rainbow Puddle & Zen Tricksters


Single Wing Turquoise Bird Lightshow


Wizzard Lightshow


pOoTer's pSycheDelic shAcK


...for more, use the Pooter's link!